Sightseeing and day trips on Evia
Lichadonisia
Only a breath away from Lichada on the northern tip of Evia you can find the paradisical isles of Lichadonisia. Travelers visiting Lichadonisia wonder why Europeans looking for exotic and marvelous places want to travel to the remotest parts of earth, while paradise is so close. One of the most pleasant surprises the lucky visitor can marvel at is a cute family of seals, which in the last few years has chosen Lihadonisia as their permanent residence.
The so-called "Greek Seychelles" (15 small volcanic islands with a sandy beach and an outdoor bar) are accessible from Kavos (which also has a fantastic beach) with small boats that depart every half hour during summer months (until September).
Tel. (boat timetable): +30 69 7250 8181 - Distance: 35km from Edipsos and Armonia
Limni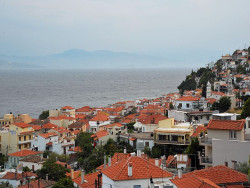 The picturesque Limni is one of the most beautiful towns of Evia and is famous for its traditional architecture and its stone-paved streets. There are plenty of Byzantine monuments in Limni worth visiting, for example the monastery of Agios Christodoulos Patmios or the temple of Zoodohou Pigis.
On the coast of Limni you can find various restaurants, ouzeries, cafes, bars, and a relaxing holiday atmosphere. There are many cultural events that take place during the summer called "Elymnia", and include theater plays, music nights, modern and folklore music, shows, events, and more.
Distance: 30km from Edipsos and Armonia
Church of Saint John the Russian
One of the most popular saints in orthodox countries nowadays is St. John the Russian whose mortal relics can be visited in John's Church, in the village Prokopi.
On his feast day, on May 27th, thousands of pilgrims gather here from all corners of Greece to honor the saint. Orthodox Christians from all parts of the world also come to pray to the saint.
Distance: 60km from Edipsos and Armonia
Osios David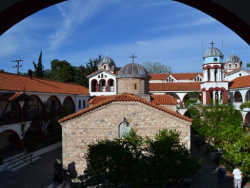 Saint David's monastery in the forest of Drymona and within a beautiful pastoral setting is famous on Evia and all over Greece. The monastery was founded 1540 by the young David and was reconstructed 1877 after its destruction by the Turks during the Greek Independence War 1824.
Feel free to try the water from the natural spring below the monastery which is located on the corner near the monastery and said to be blessed by Saint David.
Distance: 30km from Edipsos and Armonia
Waterfalls of Drymona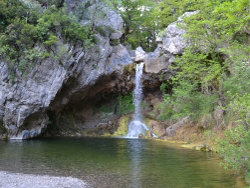 The Waterfalls of Drymona are a beautiful and natural place just a few kilometres from Drymona on the road to Kerasia, easily accessible by a path leading to the base of the waterfall.
We recommend sturdy shoes for a walk on the stone path. You can combine this with a trip to Saint David's Monastery.
Distance: 35km from Edipsos and Armonia
Agia Anna Beach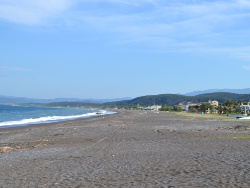 Agia Anna is a popular summer destination on Evia with a large, endless beach and a picturesque village worth visiting. It is one of the longest beaches on Evia with a length of 6 kilometers.
Besides swimming in the clear Aegean sea, visitors can enjoy a lunch of fresh fish or just take a coffee at the cafeterias, ouzeries and tavernas by the beach.
Distance: 60km from Edipsos and Armonia